Residents certainly owe their long lived lives to living peacefully surrounded by such beautiful nature.
Lazy areas of the province, away from crowded and rushing cities. Thanks to healthy Mediterranean cuisine, clean air and an optimistic approach to life, Sardinians live long and happy lives.
On top of that, the 300 days of sunshine a year are certainly conducive to carefree lifestyle as well as tourists visiting the island.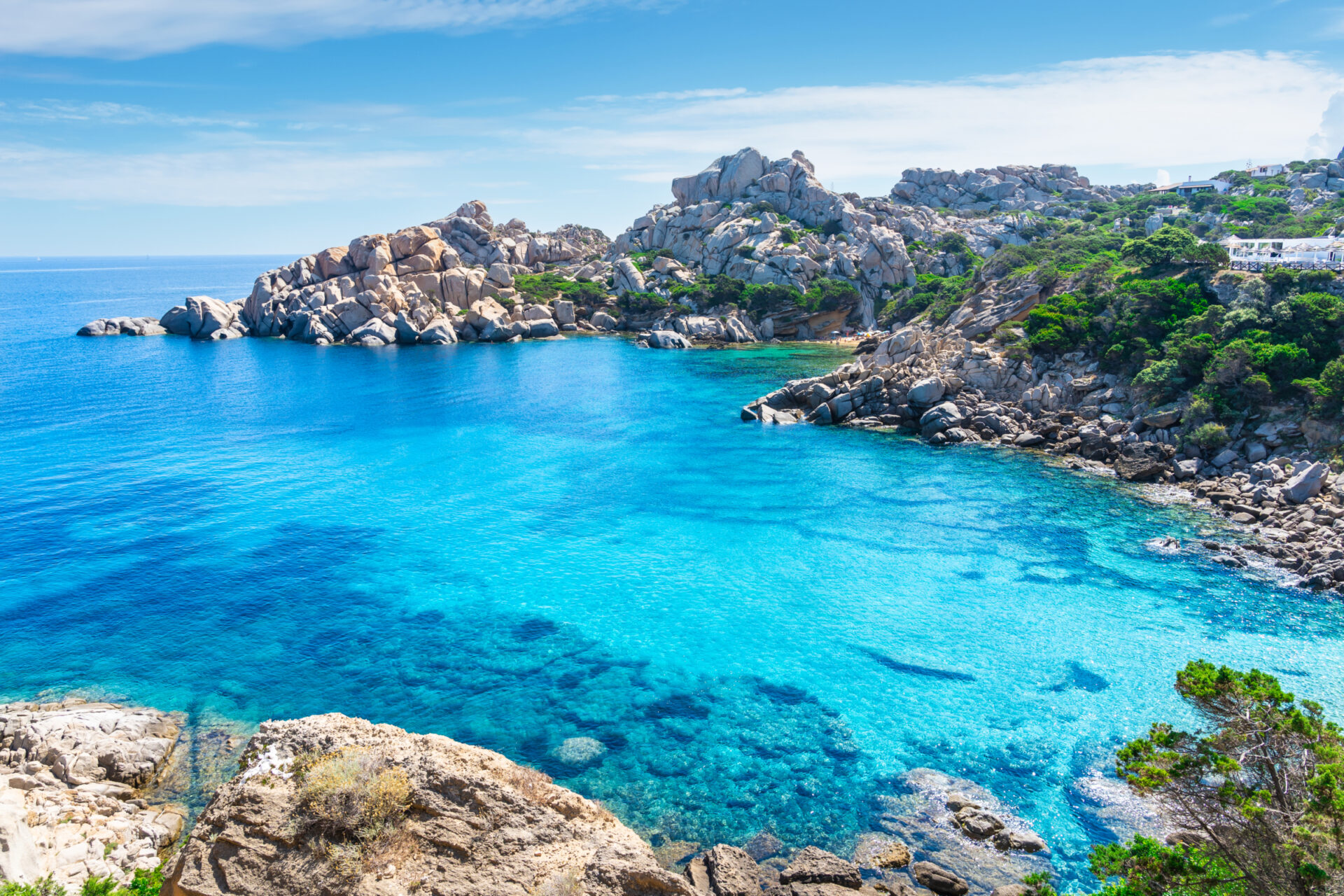 When is it a good idea to go to Sardinia?
seasonLow
seasonMiddle
seasonHigh
Sandy beaches surrounded by emerald bays overlooking steep rocks. It must undoubtedly be a beautiful sight.
Only from a private boat can you avoid the crowded season and admire this fantastic island rocking on the waves.
The spacious and open kitchen on the Bali catamaran offers you relaxation in elegance and comfort. Purchases of traditional cheeses and regional wine are sure to fit in a full-size refrigerator and will be enough to take you further wherever you want to go.
Immortalized in photographs of the enchanted corners of the Sardinian coasts will certainly be a wonderful souvenir right after the memories of the catamaran trip.
Sardinia has 1,849 km of coastline running along. It offers a subtropical climate interspersed with lagoons.
The paradisiacal archipelago of La Maddalena in the north of Sardinia consisting of 7 main islands and dozens of smaller ones is considered the most beautiful in the Mediterranean.
This emerald archipelago hides untouched natural areas that you can conquer on stand up paddles available on the boat.
Arriving with catamaran in the port town of La Maddalena, you can taste regional dishes or visit the former home of Giuseppe Garibaldi, the Italian national hero.
But first, gather your strength before heading inland admiring the stately cliffs of Sardinia's coastline from the deck of a sailing ship.
The Coral Coast is another necessary point to tick off while traversing the Mediterranean Sea by catamaran.
The transparency of the waters and the richness of the underwater world only tempts one to dive in and feel the magic of the landscape.
Let yourself be absorbed by the Sardinian coastline, the crystalline water, the rich flora and fauna hidden beneath the surface. You can see it with your own eyes by using the snorkeling equipment on the boat. Active recreation and relaxation at the same time is the advantage of vacationing in such a beautiful country while traveling on the Z Via Oceano watercraft.
You certainly can't get bored in Sardinia. The prevalence of mountains and plateaus is conducive to active recreation. Conquer this island and experience its magic. But first, relax on board ..
Did you know that half of the sheep's milk sourced in Italy comes from Sardinia?
Not surprisingly, even the animals are happy here. Indulge yourself in happiness and breathe in the climate of Sardinian longevity.
Take a boat trip with Via Oceano.
Find the courage to set a course for your dream holiday.